How to Hire Better Salespeople
Quick Guide: 5 Things to Do Before Posting the Job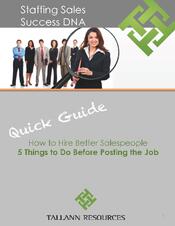 So, you need to hire a sales rep. Maybe you're simply replacing someone who has left the company. Or, this is a new position. You've decided that in order to increase sales you need a dedicated person to develop business. Typically the recruiting process for a sales representative starts with posting the job on a job board and interviewing candidates that respond. Right?
Stop! Don't post yet. You are missing the five things to do before posting for a sales rep.
To ensure you select the best person for the job learn how to answer these critical questions:
What does sales success look like for your staffing company?
What would your sales rep need to do to reach your sales goals?
How would an ideal employee in this position act?
How are you going to pick the best person?
Where are you going to find the best person?